Tired of the grueling quarantine? It's time to take your kids, pick up a 7 seater car hire Manchester and enjoy such a long-awaited vacation! Great Britain, and in particular Manchester, is one of the few places available to travelers, while a car is the ideal transport for getting around. A 7-seater vehicle will help you travel with the whole large family, avoiding crowds of people in public transport, and this is the main condition for the safety of your trip.
So, book your flight tickets and a hire car, while we tell you where to go in Manchester with your kids to have fun!
The National Football Museum
The Football Museum is a great family-friendly place to have fun, kick the ball and of course learn more about your favorite game! The museum has interactive objects, games and displays that are suitable for a wide range of visitors of all ages.
Open areas on the 2nd floor are suitable for toddlers up to 5 years old – there's a changing table, a soft play area, pencils and coloring books. There are interactive toys where children will need to kick the ball and run, imagining that they are real football players. The cafe offers relatively cheap lunches, as well as a children's menu, high chairs for kids, and for sure, they won't refuse you a request to warm up a bottle of milk.
Address: Urbis Building Cathedral Gardens, Todd St
Hours: Daily 10am-4pm
Rock Over Climbing Center
This is a spacious bouldering center in the northwest of the city. Here you can climb the mountains, taking into account all the possibilities. The center offers a variety of options to allow children of almost all ages to participate, learn to enjoy the sport, and develop physical ability and dexterity. Parents and children can climb together. Of course, the center employs professional mountaineers and rock climbers. Classes can be held in the hall or in an open area.
A fully equipped Kids Play Area with two slides, a castle with tunnels, as well as small climbing walls and the playground for the little ones in this center is guaranteed to keep your little ones entertained for a few hours. In the comfortable living room with changing tables, parents can relax while the children are running around the playground. There are special places for storing baby carriages.
Address: Park Garage, Cheviot St
Hours: Monday-Friday 10am-10pm, Saturday and Sunday 10am-8pm
Greater Manchester Police Museum
Imagine that you are in Victorian Manchester, a town with gas lamps and narrow alleys, slums and very noisy pubs. Then imagine how much work the local police had in those days. In the museum, you will learn how the police arrested the criminals and how the law worked. History comes to life at the Police Museum!
Keep in mind that there's no car park near the museum building, so you will have to use the public parking located 50 meters away.
Address: 57A Newton St
Hours: Tuesday only 10.30am-3.30pm
SEA LIFE Manchester
Another pride of locals is the aquarium, located at Barton Square, where seven days a week you can enjoy five thousand sea animals. All these animals are housed in 30 huge aquariums. It's not necessary to list all the inhabitants of the aquarium, because you will have a unique opportunity to wear diving equipment and walk along the sea bottom full of real sharks and giant rays. This experience includes ten minute dive and one hour private excursion, and costs £65 pounds.
If you decide to just wander along the aquarium, then the entrance ticket for adult visitors will cost £17 pounds, while children under 3 years old are free of charge.
Address: Barton Square intu Trafford Centre
Hours: daily 10am-5pm
Manchester Art Gallery
The Art Gallery has many offerings for families, including the Clore Art Studio, free family and creative rooms, and a café serving children's meals. In such rooms your kids can draw, glue, and cut. On weekends, children's animators can entertain children.
For families with children aged 3 to 6, the Gallery provide interesting things, such as binoculars and magnifying glasses, that will help to explore the collection of rooms. On the top floor, you and your kids can visit the Gallery of Craft and Design, full of amazing goods of ceramics, glass, metal and wood.
Address: Mosley Street
Hours: daily 11am-4pm
Fletcher Moss Park
Manchester has excellent conditions for outdoor recreation. One of the most beautiful and attractive parks for walking and relaxing is Fletcher Moss Park & Botanical Gardens. This botanical garden is especially beautiful in the warm season, when many gorgeous trees grow on its territory. At that time you can see unique landscape decorations and exotic flowers everywhere.
On the territory of the park, you can enjoy many convenient paths and bridges for walking. Searching for its hidden corners can be an interesting adventure for the whole family.
Address: 18 Stenner Ln, Didsbury
Hours: daily 8am-5pm
Museum of Transport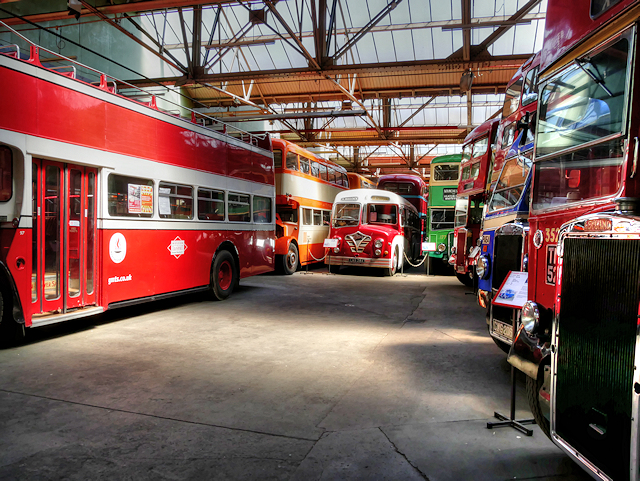 The museum is located 15 minutes from the city center, so it will not be difficult to get there by a hire car. The first-priority goal of the museum is to preserve rare samples of the automotive industry. The exposition in this museum is one of the largest in the country, and its main feature is the inconsistent composition of exhibits. For example, some exhibits in the summer 'visit' other museums and events in the country, and then return 'home', but put them in a different place.
The museum is relatively young – it was opened in 1979 and immediately became extremely popular both among locals and travelers. Don't be surprised if, during your visit, you see auto mechanics fixing cars right in the hall. Also, there's a hall at the museum with more than hundred old buses. The most ancient exhibits are a trolleybus and a tram, which date back to 1901.
Address: Boyle St, Cheetham Hill
Hours: daily 9am-4pm